Settings

This video is part of the official comprehensive video course about Duik Ángela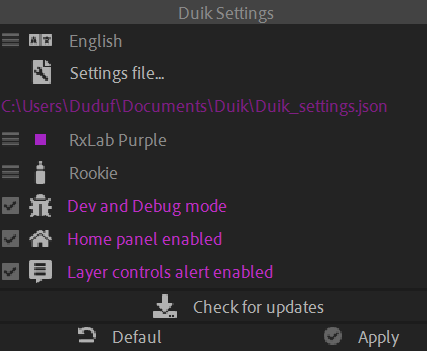 Duik comes in many languages, and you can easily contribute to add more. Come on translate.rxlab.io!
You can change the location of the file where Duik stores its settings. This may be useful to synchronize it across different computers for example.
Changing the color of the UI of Duik is just cosmetic. But we love this!
There are three UI modes:

Rookie takes more room and has a lot of text, but is nice for discoverability.
Standard takes a bit less room, while still keeping useful titles.
Expert removes a lot of stuff to make the UI as small and unintrusive as possible.
The God mode from Duik Bassel was removed, sorry! We loved it, but now the Expert mode is small enough.

You should only switch to the Dev and Debug mode of Duik if you're developing stuff for Duik or if you stumble upon a bug, to get more information about the issue. In this mode, Duik will shout at you each time it encounters the tiniest bug.
Don't disable the Home Panel as this may kill the performance.
Before running complex processes, by default Duik asks you to hide the layer handles to make things (much) faster. If you find this annoying, or if you just never enable the layer handles, like a true pro, you can disable these alerts.
Don't forget to update Duik! We release updates quite regularly to fix bugs and improve the performance, while also adding new stuff.