Select Keyframes

This video is part of the official comprehensive video course about Duik Ángela
Select keyframes is a very useful tool to quickly select a lot of keyframes together in the timeline.
You can [Shift] + [Click] the button to access some options.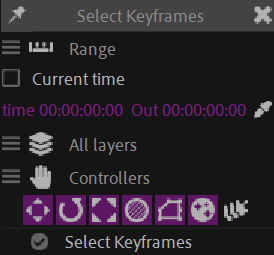 You can select keyframes at a specific time or in a time range.

The time can be the time of the Current Time Indicator or a specific time, and the time range can be either the work area or a specific range.
To set specific time and time range, you can click on the eyedropper to pick the current values from the playhead or the work area.

You can use the filters to select the keyframes of a specific type or on specific layers only.